Jewelry plays an important role in Hollywood. Some pieces have gone on to inspire fashion for years to come, from the stunning gems that adorn movie stars on-screen to those iconic pieces on the red carpet. Here is a look at eight famous gems from the movies. 
Heart of the Ocean Diamond in "Titanic" 
One of the most interesting gems featured in a movie—the Heart of the Ocean diamond from "Titanic"—wasn't real. Some people believe the gem is based on the Hope Diamond since some of the details are similar. The necklace worn by Kate Winslet's character, Rose, is actually cubic zirconia in white gold, which cost an estimated $10,000 to make. Twentieth Century Fox still has the gem in their archives. 
While not real, the gem did inspire reproductions. One of the high-end replicas was made by Harry Winston using a 15-carat blue diamond. The value is estimated at around $20 million. 
Tiffany Jewelry in "The Great Gatsby" 
The 2013 release of "The Great Gatsby" included a special collaboration with Tiffany & Co, who created a line of jewels worn by the character Daisy Buchanan. Some of the iconic pieces in The Great Gatsby collection included a hand ornament with a daisy motif in diamonds with cultured pearls and platinum and a ring of pavé-set diamonds with a center stone of 5.25 carats in platinum. Probably the most iconic and well-known piece was the headpiece, named the Savoy. The Savoy is a diamond and freshwater cultured pearl headpiece with a detachable brooch that carried a $200,000 price. 
Ruby Necklace in "Pretty Woman" 
Who doesn't remember the iconic scene in "Pretty Woman" where Richard Gere's character surprises Julia Robert's character with a stunning ruby and diamond necklace? This iconic moment sparked many inexpensive replicas still popular today. Fred Joaillier, a French jeweler, made the original piece for the movie. The necklace has 23 pear-cut rubies set in the center of diamond hearts, all set in 18K white gold. It's estimated the necklace is worth over $1.3 million. 
The One Ring in "The Lord of the Rings"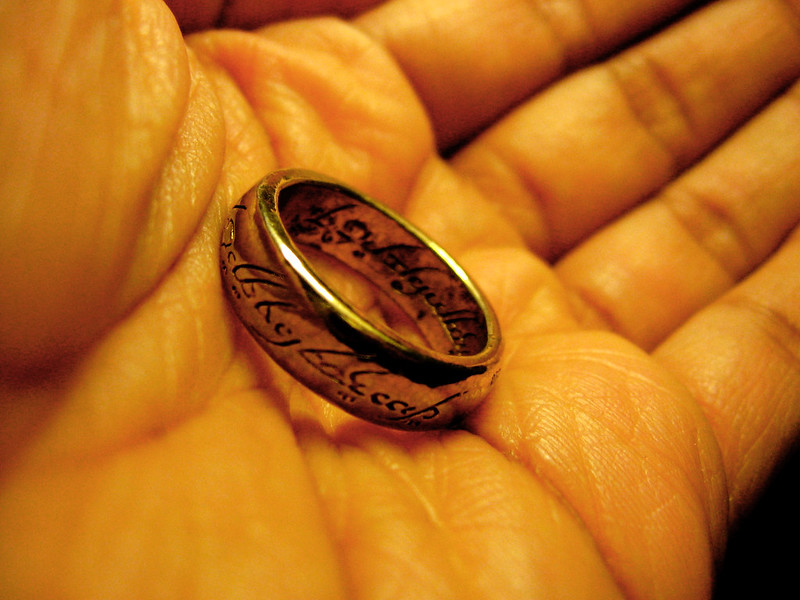 Image via Flickr by bandita
The original One Ring featured in "The Lord of the Rings" trilogy was created by Jens Hansen, a gold and silversmith from Nelson, New Zealand. This ring was a central part of the movie's plot and sparked such a demand from people who wanted a ring of their own. Hansen was commissioned to make official replicas using the same shape, thickness, proportions, and materials as the original ring, which is estimated to be worth between $50,000 to $80,000. 
Satine Necklace in "Moulin Rouge"
Designed by Australian jeweler Stefano Canturi, this necklace includes 1,308 diamonds and weighs about 134 carats. The largest stones are a 5-carat emerald-cut diamond and a 2.5-carat cabochon-cut Sri Lankan blue sapphire on the clasp. Canturi took inspiration from the opulence of the 1800s and the Louis XVI era, which featured late Rococo and early Neoclassical styles. 
Not only was this one of the most expensive pieces of jewelry ever created for a movie, but it's also one of the most involved. The designers had to create a wire model of Nicole Kidman's neck followed by three months of in-person fittings with Kidman. Because the necklace was so valuable, Canturi created a second one made of silver and crystals with a magnetic clasp for use in the scene where The Duke ripped the necklace off Kidman's neck. 
At the time "Moulin Rouge" was in production, the Satine necklace was worth around $1 million. It was the most expensive jewelry ever made for a movie. The necklace was up for auction briefly, but Canturi decided he couldn't part with it, and the Satine necklace remains in his personal collection. 
Isadora Necklace in "How to Lose a Guy in 10 Days" 
Kate Hudson's character was the belle of the ball in "How to Lose a Guy in 10 Days" when she entered the gala wearing the Isadora Necklace. This 84-carat yellow diamond pendant is worth between $5 million and $6 million. Designed by Harry Winston, it sold shortly after the filming to a private buyer. In total, over $14 million worth of jewels were on loan for the "Frost Yourself" gala scene. That necklace has inspired other looks, and Lady Gaga wore a similar 128.54-carat yellow Tiffany diamond at the 2019 Oscars. 
Diamonds in "Gentlemen Prefer Blondes" 
Marilyn Monroe's performance in "Gentlemen Prefer Blondes" had a huge impact on the diamond industry that is still recognized today. While dripping in diamonds, she uttered, "Diamonds are a girl's best friend," which is still used today. DeBeers followed the movie with their signature tagline, "A diamond is forever." The combination of the movie and DeBeers tagline helped fuel increased interest in diamonds, a trend that continues with modern diamond engagement rings today. 
Although there were many costume pieces in the movie, one piece was definitely real: the legendary Moon of Baroda. This piece is a 24.04-carat pear-shaped, yellow, canary diamond necklace. Legend has it the Maharajah of Baroda owned this necklace for over 500 years. The necklace changed hands multiple times, eventually finding its way back to Baroda for another couple hundred years before ending up in the U.S. The necklace was recently auctioned off where it was expected to go for around $750,000 but, instead, sold for $1.3 million. 
Pearls in "Breakfast at Tiffany's" 
Audrey Hepburn's signature strands of pearls with a diamond brooch in the opening scene of "Breakfast at Tiffany's" inspired women worldwide. French jewelry designer Roger Scemama created the layered pearl necklace. Scemama was known for his collaborations with famous design houses, such as Dior, Yves Saint Laurent, Givenchy, and Lanvin. 
That scene influenced jewelry designs for decades to follow. The love for this scene is so strong that Tiffany & Co. even opened a cafe at their famous Fifth Avenue store so you can actually have breakfast at Tiffany's. While it's currently closed, the cafe should reopen again in 2021 in conjunction with the store's reinvention. 
Which movie jewels are your favorite? Are there any jewelry icons you think we missed? Contact us at Unique Gold & Diamonds to share your favorites so we can add them to the list!