As the year heads into spring, the experts at Unique Gold and Diamonds have compiled a list of the 2020 engagement ring trends you may want to consider in your search. Engagement season is in the air, and these trending styles, cuts, and embellishments are perfect for happy couples planning to get engaged this year. To get your search started, here are eight gorgeous styles and 2020 engagement ring trends to inspire you in finding the perfect ring.
Yellow Gold Bands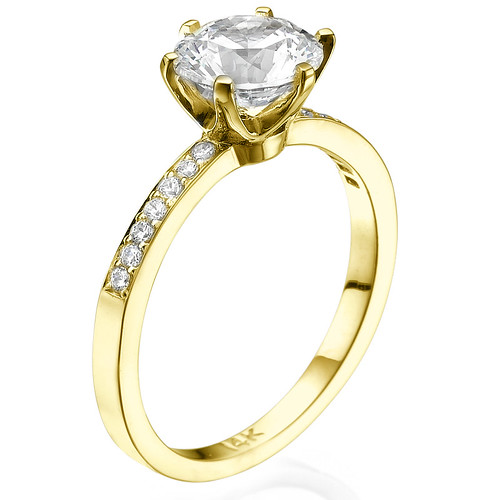 Image via Flickr by apollodiamonds
This year, you can expect to see more yellow gold bands and ring accents, like white and yellow gold combinations. Yellow gold possesses the versatility and understated beauty that pairs well with modern and vintage bridal looks. You can pair it with a solitaire in virtually any cut. Classic princess or oval cuts shine against the warm tones of yellow gold. It's no surprise this classic color is a much-loved favorite for engagement rings.
Simplistic Diamond Solitaires
Similar to yellow gold's classic style, the diamond solitaire proves to remain one of the top trends for this year. Some brides-to-be are even adding elegant accents like small gemstones or diamonds to frame their solitaires. Diamond solitaires owe their popularity to their sleek, yet simple, appearance. You can even add more sparkle with a unique emerald or teardrop cut. Whether it's mounted in yellow gold, white gold, or sterling silver, the simplistic nature of the diamond solitaire doesn't seem to be leaving anytime soon.
Vintage Asscher Cuts
The start of the new decade will also see more couples in love looking for unique, vintage and chic designs. Maybe it's the centennial of the vintage chic styles of the 1920s or just a sentimental connection to the popular era, but the Asscher cut seems to be rising to popularity for this year's diamond engagement ring trends. The Asscher cut diamond can pair elegantly with a modern sterling or white gold band to make a gorgeous, yet classic, statement.
Sparkling Eternity Bands
2020 is also seeing eternity bands grabbing the attention of future brides and grooms. These sparkling rings are becoming increasingly popular in place of traditional engagement rings. You might try a classic round cut or rectangular or square cut to enhance the sparkle from every angle. Another element that makes the eternity band a popular choice is its customizable fashion. These engagement bands can be customized with an engraving, like your anniversary date or wedding date, so you can personalize your ring to your relationship.
Elegant Halo Engagement Bands
Halo designs will also be popular in 2020. If you choose a halo design for your engagement band, you'll have the perfect addition of elegant glamour to showcase a center diamond. No matter the cut, the halo design can highlight the bright facets of your center stone.
Understated Gem Accents
We also expect to see a rise in additional embellishments and gem accents, especially wonderfully understated designs. Solitaires are accented with several smaller diamonds or gemstones (like sapphires, rubies, or emeralds) that enhance the look of the main stone. Simplistic style and flair add to the beauty of classic cuts like the princess or oval cut.
Shared Prong Engagement Rings
Shared prongs situate the center stone so that it shares adjacent prongs with smaller diamonds or other gemstones. This makes the focal stone appear to be floating on a band of tiny gemstones, adding a graceful and elegant appearance. These beautiful styles truly enhance the look of diamond engagement rings, especially when paired with a classic oval or princess cut.
Stackable and Nested Engagement Sets
Stackable and nested engagement rings come in a wide array of styles, perfect for accenting a single solitaire ring or wearing together. This style is flexible and offers you the opportunity to switch up their looks. Stackable and nested engagement sets come in a variety of designs including diamond-embellished, curved, crescent-shaped, or chevron. No matter what you're looking for, a nested or stackable set can be a gorgeous addition to a simple solitaire.
Unique Shapes, Styles, Cuts, and Gemstones
This year is also expected to highlight some unique engagement ring trends. From platinum metals to non-traditional stones like black diamonds, 2020 should see some more nontraditional and eclectic styles that younger couples getting engaged may be captivated by. 
Several trends featuring black diamonds, including unique solitaire cuts like teardrops and heart-shaped cuts, are becoming a new design staple as engagement ring shoppers are looking more at custom elements over timeless features.
For metal options, platinum is also remaining a trending engagement band option, as it's a durable and long-lasting metal and pairs well with a sparkling diamond. Brides-to-be looking for minimalist and satin-like aesthetic from their rings are likely to find more design choices featuring platinum bands. Titanium is another unique metal that adds an industrial look to a clear, white diamond and is another engagement ring trend appearing on the market.
Nontraditional gemstones are also a trending choice for to-be-engaged couples who are opting for more unique and personalized designs. Several popular stones for 2020's engagement ring styles includ e white topaz, sapphires, and even soft pink rubies. Chocolate diamonds and pink diamonds are also popular choices among newly engaged couples who are looking for unique color options to pair with classic styles like simple bands and delicate halos. The color variety of nontraditional stones pair well with unique cuts like teardrop, triangle, and marquis cuts that can enhance the faceted shine of your stone.
As you shop for the perfect design, cut, and style for your diamond engagement ring (or nontraditional stone), stop by Unique Gold and Diamonds and browse our selection. We carry only the finest gold, diamonds and stones with unique and elegant designs to fit your style and budget. Let us know if you're looking to customize your diamond engagement ring! Our custom design services offer a range of options to choose from so that your engagement is as memorable and unique as it is beautiful and sparkling.